African voices raised in support of people with albinism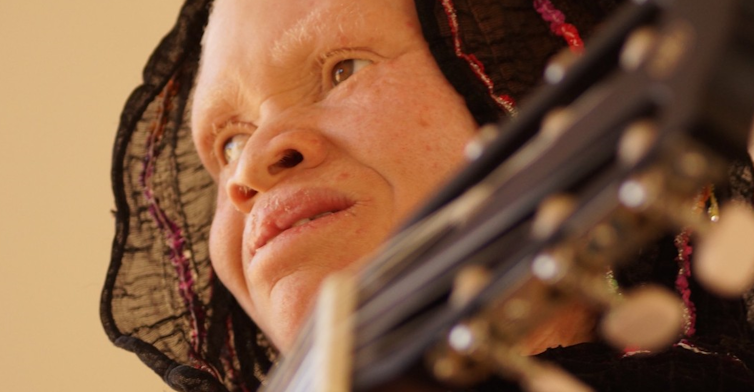 On the remote East African island of Ukerewe in the middle of Lake Victoria, people with albinism whose voices have been largely unheard, are now writing and voicing their experiences into songs. Ukerewe is the largest inland island in Africa and is part of Tanzania.
This East African country has the highest prevalence of albinism in the world: about one in every 1,400, compared to the US's one in 17,000. In Africa the prevalence is estimated to range between one in 1100 to one in 15,000.
Since 2006, more than 520 attacks on people with albinism in 28 countries have been recorded, according to the Canadian charity Under The Same Sun.
People with albinism in Africa face a range of prejudices and social stigmas. They are often dismissed as belonging to another race, or as ghosts or spirits.
Tanzania has the largest recorded number of attacks with more than 170 incidents over the last decade. These attacks range from maiming, to death, to desecrating a grave. There is a black market for body parts, hair and skin used by witchdoctors in potions and charms.
There is a higher proportion of people with albinism on Ukerewe – 75 on the island of 200,000 people. It is a remote island, reached by a four-hour journey by ferry over the lake. Historically children with albinism have been brought and abandoned on the island, while others have sought safety in this remote haven.
Songwriting workshops led by American author, activist and Grammy award-winning music producer Ian Brennan, encouraged a group in Ukerewe Island to write songs about their experiences using the local languages of Kikirewe and Jeeta. The outputs form part of a body of work – music, art, dance and film – that's making a difference in the lives of Tanzanians with albinism in a number of ways.
My research on media portrayal of Africans with albinism found that music, songs, art and films are important in expressing and understanding the experiences of Africans with albinism, who are seen to be different in colour.
They also affirm their human rights and educate communities to accept and care about people with albinism.
New songs and albums
Singing and dancing were new experiences for all in the group on Ukerewe Island. Astonishingly, they had been forbidden to sing in church. Restrictions like this are an example of the social rejection commonly experienced by Tanzanians with albinism.
It was apt that many of their songs were sad and touching, with titles like Life is Hard, Sorrows and Mistreated.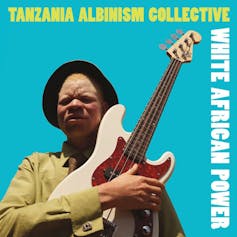 The group of songwriters called themselves Tanzania Albinism Collective and recently released an album of their songs. Titled White African Power it asserts their power and dignity to be themselves and to speak out for others with albinism. Songs on the album appeal to the community to remember that people with albinism are humans and deserve to enjoy human rights.
These songs are uplifting and powerful with evocative titles like I am a Human Being, Never Forget the Killings, Unity is our Strength and Albino Brotherhood. Last month they toured the UK to promote their album. The album also got wide coverage and good reviews.
The release of the album follows the making of films highlighting the struggles faced by people living with albinism. For example, White and Black: Crimes of Color is a film in Swahili that was screened across the Tanzanian nation.
Its name refers to how mothers can have white and black children born to them. It also explains how Africans with albinism are murdered and mutilated in crimes simply due to colour difference.
People with albinism from Ukerewe Island have also been featured in a film called In the Shadow of the Sun. The documentary follows Josephat Torner, a Tanzanian man with albinism as he journeys to the island.
Stand with me
In anthropological research, Giorgio Brocco has written about emerging new artists with albinism in Tanzania, including Bongo Flava (a style of Tanzanian hip-hop) musician Ras Six and Keisha, who sings Simama Nami (Stand with me). They join already well-known singers with albinism, notably Salif Keita (of Mali) and the Jamaican, Yellowman.
In his paper, "Singing Albinism in global Tanzania: 'Demanding' inclusion through music", Brocco shows how Ras Six critiques the hardness of life through his songs and also promotes acceptance and equality for Africans with albinism.
Concern about the murders of Africans and others with albinism was a major focus of the first ever expert workshop on Witchcraft Beliefs and Human Rights held in September at the United Nations in Geneva. A key organiser of the workshop was Ikponwosa Ero, the UN Independent Expert for the Enjoyment of Human Rights by Persons with Albinism. She stated that,
for a person with albinism, nearly all of their most fundamental rights are at risk.
The workshop aimed to identify solutions. I attended it and was very impressed by how geneticist Patricia Lund spoke about Creative Advocacy by using music, dance, film-making and games to teach the science of albinism in socially relatable ways.

The role of art is becoming increasingly important in battling against the prejudice that people living with albinism face. The inspiring stories of projects like the Tanzania Albinism Collective show what united voices can achieve in making people aware of the human rights of people with albinism.
Jean Burke, Senior Lecturer in Social Work, Australian Catholic University
This article was originally published on The Conversation. Read the original article.

This work is licensed under a Creative Commons Attribution-NoDerivatives 4.0 International License.
© j:mag Tous droits réservés
Enregistrer